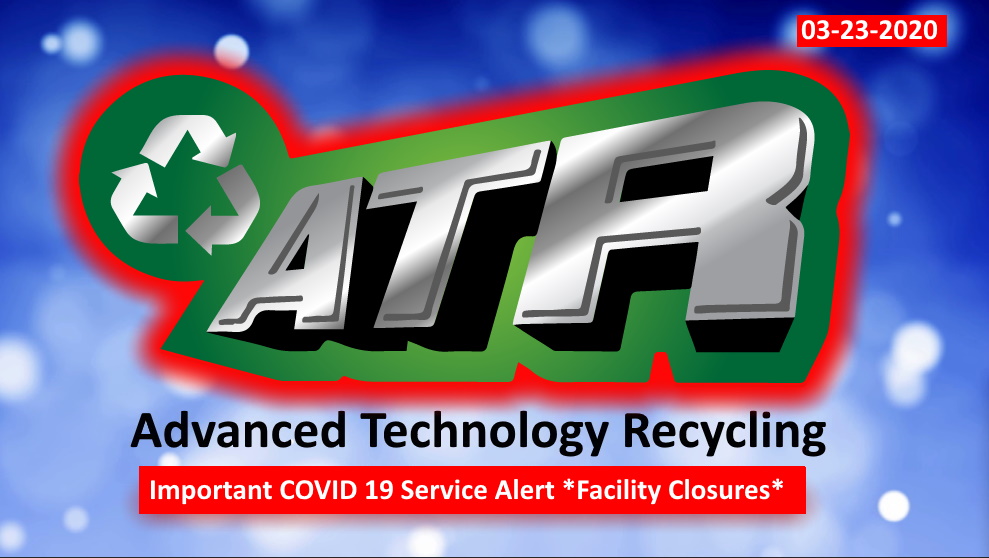 Please be advised, in accordance with Governor Gretchen Whitmer of Michigan and Governor Kay Ivey of Alabama mandatory closing of all nonessential business in Michigan and Alabama ATR will be temporarily closing our Grand Rapids and Birmingham facilities due to the COVID 19 outbreak.
To reduce the impact to our business customers all previously scheduled shipments are being rerouted to the nearest ATR facility when possible or rescheduled. Work flows currently in process at this location will be suspended as the facility initiates a series of lock down protocols designed to protect the integrity of all operational procedures and warehoused assets. ATR will continue to monitor and manage the facility in real time via secure VPN tunnels and "Smart" technologies. Additionally, several key employees will continue working from home to provide ongoing customer support and updates as needed.
Unfortunately, there will be processing and reporting delays, so we encourage any customers with time sensitive projects to alert their account managers as time permits.  Customers categorized as providing "Essential Infrastructure Services" are urged to contact us immediately in the event a disruption of service interferes with their ability to perform critical tasks as outlined by the Governors plans. 
The Grand Rapids MI, shut down is being managed by Joshua Sparks who can be contacted directly at J.Sparks@ATrecycle.com. The Birmingham AL facility shut down is being managed by Charles Parks who can be reached at C.Parks@ATrecycle.com All customer phone calls, inquiries, and emails will be routed to our Corporate headquarters in Pontiac IL. and answered as quickly as possible. Customer Service Representatives and Senior Level Managers are available during regular business hours to help answer questions at www.ATrecycle.com or call toll-free at 877-781-7779.
To summarize, ATR facilities in Las Vegas NV, Tonawanda (Buffalo) NY, Pontiac (Corporate Headquarters) IL, Birmingham, AL, Grand Rapids MI have been temporarily closed due to mandatory closures. ATR facilities in Richmond, VA, Salt Lake City, UT and San Antonio, TX remain open as of 3/23/2020. ATR has no confirmed cases of COVID 19 exposure at this time and we will remain open at the remaining facilities. Birmingham and Grand Rapids staff members have been instructed to follow all State mandated social distancing protocols and we're confident when the ban is lifted all affected ATR associates will resume operations quickly.
Please forward this message to anyone on your team affected by the mandated closure and we'll continue to provide updates as they occur.